What new 3D Measure Up features have been added to the already impressive list? What are the solutions?
What new 3D Measure Up features have been added to the already impressive list? What are the solutions?
3D Measure Up's team is continually updating their product in order to meet the needs of their customers. The cool new features and enhancements are now available. Let's take a quick look at them.
Tape measurements for all girths:
A tape measure is a tool that uses tape and is commonly used in the clothing industry.
Contoured is along the path on the surface of the body. These are typically used for functional clothing. In this release, each girth measurement is available as a tape measure and a contoured measurement.
Both contoured and tape girth measurements of the chest are shown in the photos below: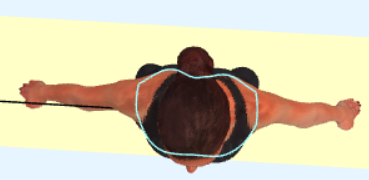 a. Contoured Chest Girth
b. Tape Measure for Chest Girth
New girth measurement "Aligned to the skeleton":
The girth axis may be aligned to:
1. The skeleton of the body OR
2. It may be perpendicular to the floor
Girths on the arms, legs, and feet are always aligned to the skeleton.
3D Measure Up offers both girths on the head, neck, and torso regions.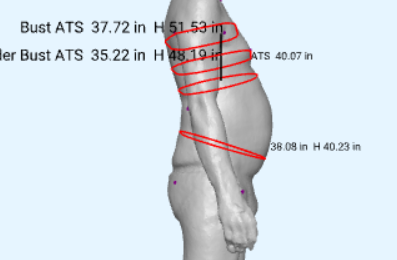 Enhancements and Fixes:
Landmark points Updated
1. Improved positioning of chin point on obese body scans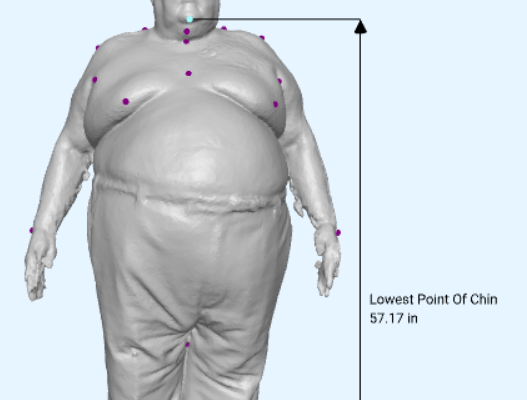 2. Improved accurate positioning of bust point on obese body scans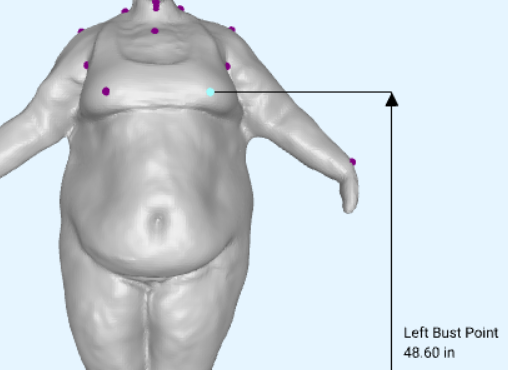 Girths Updated
Renamed Chest End girth as Underbust.
Surface Lengths Updated
Redefined Total Crotch length as a tape measurement

Added Total Crotch contoured length
Enabled webhook to report errors during measurement extraction.
For UI:
Modified the button icon for the Clear Scene operation

Added functionality to 'Delete Measurement' using, the context menu on measurement selection

Usage Tip for every operation is minimized and accessible during the operation

Re-positioned Search box and export button on the Model tree

Renamed landmarks node in the Model tree to POINTS

All 'contoured girths' are hidden by default, to reduce clutter

The escape key exists current operation

Height annotation visible on exiting the current task using the Esc key

Resolved, delay observed in the show – hide measurement functionality using the context menu on measurement selection

Fixed issues in model upload for models with model Names containing multiple dots

Fixed performance issues with reloading of the model tree
Measurements Improvements:
Hip or Butt girth was not identified correctly for some models.
3D Measure Up key features-
Auto Landmark Detection (ISO 8559)

Measures distance, Girths, and Volume

Highly extensible and portable cloud API

Build your own branded application

Measurements at user-specified location

Partial Measurement

Machine Learning is integrated

Compatible with any 3D scanner

Works on the Web
Here is the link to a video showing many features.
Precise Measurement on obese body scans
Virtual body measurement software
3D Scanner Measurement software
Up-to-date Measurement technology platform