3D Measure Up at the 3DBODY.TECH Conference & Expo, October 19-20, 2021
3D Measure Up at the 3DBODY.TECH Conference & Expo, October 19-20, 2021
A fantastic convention, the 3DBODY.TECH Conference and Expo are held every year. Market leaders and trendsetters will be in attendance. Extremely well-planned and executed Numerous discussions and insights that were quite beneficial.
We will discuss some of the major challenges we faced with the input scans – esp. foot scans. We will also discuss the approaches that we took to overcome these problems. We will showcase the impact of these problems on the accuracy and effectiveness of our solution on the same. Since we use Machine Learning in tandem with other algorithms, the challenge for us is to identify and isolate the cases where we might have missed our landmarks or when we may not have gotten accurate measurements. To overcome this, we implemented some intuitive post-processing methods. Using these, we perform a quick high-level validation on our results to identify errors and weed out the inaccurate outcomes. We will also discuss these.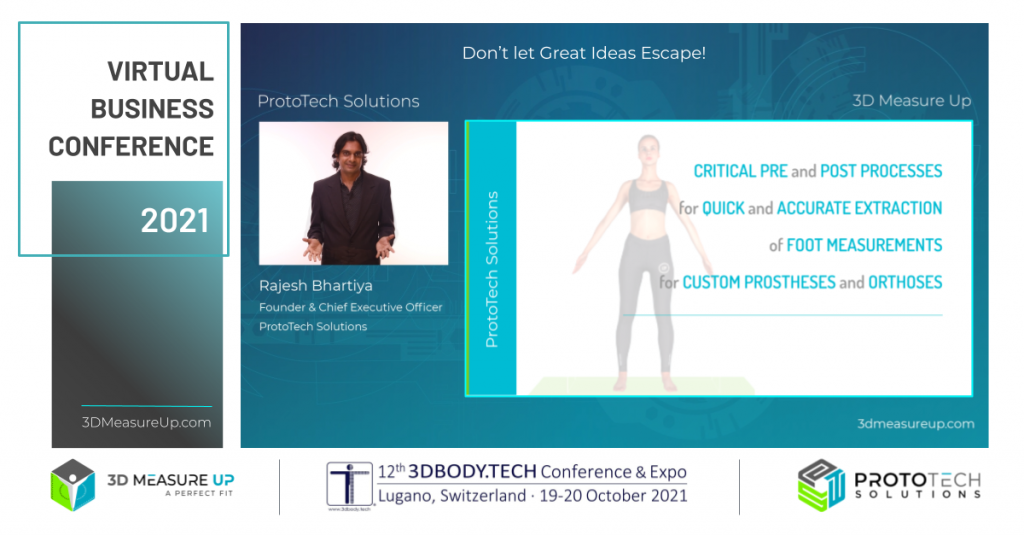 In the field of 3D body landmark detection and measurement extraction, 3D Measure Up is a technological platform. Our objective is to be a vital pre-and post-process for the speedy and precise extraction of foot measurements for the creation of personalised prostheses and orthoses for individuals. Our approach involves a combination of computational, geometrical, and machine learning techniques in order to achieve extremely high fidelity in feature identification as well as extremely high precision in measurement.