15 ways that 3D Measure Up adds value to scanners
15 ways that 3D Measure Up adds value to scanners
3D Measure Up is a technology platform for 3D body landmark identification and measurement extraction. Our vision is to be a perfect fit in the anthropometry space. We use a combination of computational, geometrical, and machine learning techniques to achieve very high fidelity in feature identification and a very high degree of accuracy in measurements.
Listed below are some of the ways scanner manufacturers and resellers are can integrate 3D Measure Up to make the offering to their customers more valuable and usable. We list some of the benefits this integration offer.
1. 200+ body measurements validated in the market across different use cases
3D Measure Up detects hundreds of landmarks on the 3D scan of the human body and provides many measurements. A few examples are nose point, chin, neck, waist, back shoulder, knee, ankle, wrist, etc. We support landmarks defined by various international standards viz. ISO-8559-1, Bufar, etc. For a detailed catalog of the measurements we support, please refer to this link to understand 3D body scans and recognize features.
These metric definitions have been validated by our customers in production environments.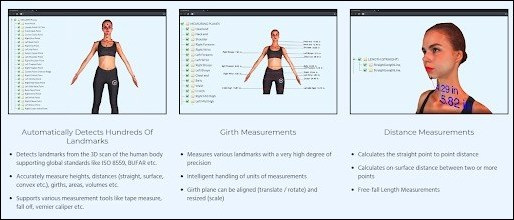 Figure: Hundreds of landmarks on a 3D scan of the human body and delivers measurements
2. Support for multiple, body shapes, poses, and postures
Traditional measurement extraction systems have heavily relied on highly constrained standard poses such as 'A' or 'T'. As I described earlier, there is a surge in the number of sources that capture body scans and it's not possible to guarantee a perfect 'A' or 'T' pose.
Not only that, most of the measurement extraction technologies have based their algorithms assuming bodies of perfect and symmetrical proportions. This is not the case. Scoliosis is a relatively common condition that causes the spine to curve and rotates into a C or S shape instead of a straight line. It is estimated that curves greater than 10 degrees are seen in approximately 3% of the population. There are plenty of more variations in postures viz. stooped posture, hollow back, slumped or rounded shoulders.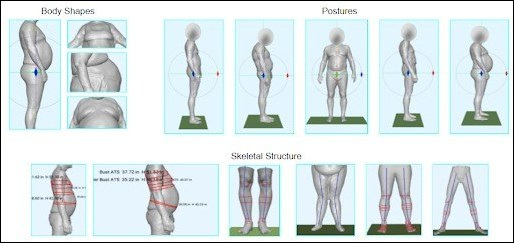 Figure: Pose and posture support for various body types
3. Web API integration
We have APIs which can be called from your application or web service. These REST APIs are very simple and easy to integrate. These are for companies who want to add value to their existing applications by incorporating body measurements features.
Figure: Web API integration
4. White-labeled application
You can use our Web Application which runs on any platform or device in a browser to perform standard and custom measurements. This is ideal for retail users and designers.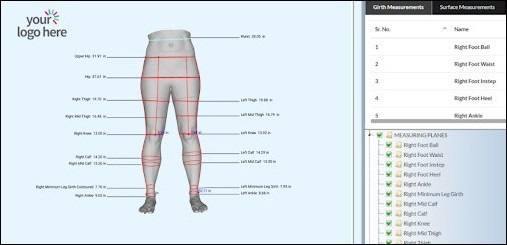 Figure: White-labeled application
5. Easy integration with workflow, enabled by multiple export types and connectors
We wanted to do more, so we extended our output information to also return the geometry profile of the measurements. Some of our customers use this information to overlay the girth profile on top of the 3D avatar they have in their own application. The biggest challenge we faced here was when we found that the geometries were not showing up in the right position. We found out that this was because we transform the avatar during the auto-alignment process. To fix it, we now transform the points back to the coordinate system in which the original scan coordinate system.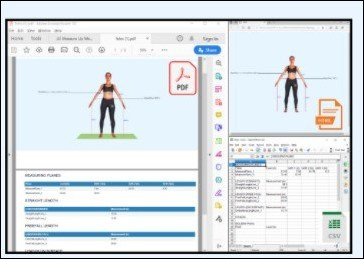 Figure: Multiple export kinds and interfaces facilitate workflow integration
6. OEM widget to extend user-facing applications
As an OEM app: You can quickly create your own branded web application deriving from our web application. Any web developer should be able to create one in a matter of days. This is ideal for 3D scanner companies to offer their own branded measurement app with their hardware.
7. Address tricky issues like alignment, mesh problems, measurement units
The other common problems with input scans are holes and self-intersections. Many scans also have the scan of the platform attached at the base. A good handheld scanner will typically take care of these issues. At 3D Measure Up, we rely on a number of internally developed mesh processing algorithms and libraries to clean and repair the scans.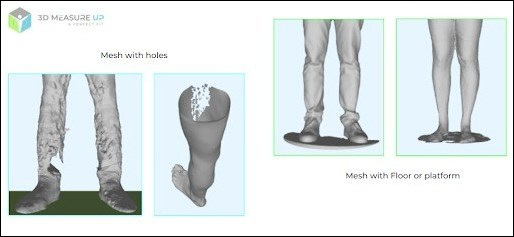 Figure: Alignment, mesh, and measurement unit issues
8. Confidentiality, Privacy, and a Trusted Partner
At 3D Measure Up, we take confidentiality very seriously. We use the data only and only for measurement extraction. We do not use our customer data to train our machine learning algorithms. The serverless architecture automatically adheres to GDPR compliances.
9. Highly scalable backend
3D Measure Up is powered by AWS and its architecture is Highly Available, Secure, Reliable, and Scalable. The nearly serverless backend enables it to scale to a high volume quickly.
10. Reduced cost of research, development, and maintenance
Scanner manufacturers can use ProtoTech solutions development capabilities to quickly experiment in the Market by developing MVPs.
11. Development support to add more measurements
As the market expands there is a need to accommodate new wearable or medical products. Each product segment brings its set of measurements. 3D Measure Up team provides development support to add new measurements.
12. Use as a base to derive proprietary measurements
Some products provide proprietary measurements as a USP. The product teams are not comfortable with sharing the measurement definition outside their organizations. For such scenarios, we have APIs to derive measurements from the base measurements extracted by 3D Measure Up. This enables both the accuracy of detecting primary (generic measurements) across various body types. At the same time, it protects the rights of the product owners.
13. Focus on core expertise
Scanner cos can focus on their core expertise in scanner development and accurate scan acquisition. 3D Measure Up deals with the measurement system and its complexities. The open framework of 3D Measure Up helps scanner systems to upgrade the hardware technologies with minimal software changes.
14. Flexible business models
Our pricing model for all offerings is fair and is usage-based. We do not have any enormous setup costs. We are one of the most affordable solutions in the market today.
15. Tried and tested by reputed scanner companies around the world
3D Measure Up has been tried, tested, and validated by reputed scanner companies like PEEL3D, Calibary 3D, Botspot, Osensus,Revopoint 3D, etc.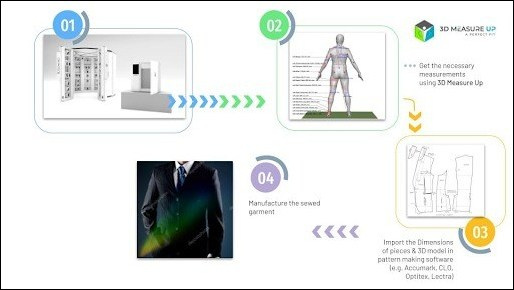 Figure: step of the personalisation workflow
The measurement extraction stage of the personalization workflow ( scan – measure – design – plan – produce – deliver ) is essential in determining the product experience, be it apparel, prosthetics, or posture diagnosis. A body measurement platform built for the mass market should be unbiased and accommodating. 3D Measure Up is designed to address this need.
3D Measure Up
,3D scan of the human body
,body measurement scanner
,3d body measurement scanner
,Accurate body measurements