"7" mobile scanners for contactless measurements
"7" mobile scanners for contactless measurements
Contactless measurements are becoming a necessity in sectors like Apparel and Medical sectors. This need has given rise to quite a few innovations to enable an individual to generate a 3D scan of his/her body. It is no longer fiction or a distant dream. It is happening here and now. This blog enlists some of the many mobile-based solutions available today. They come from all over the world, from large and small entrepreneurs.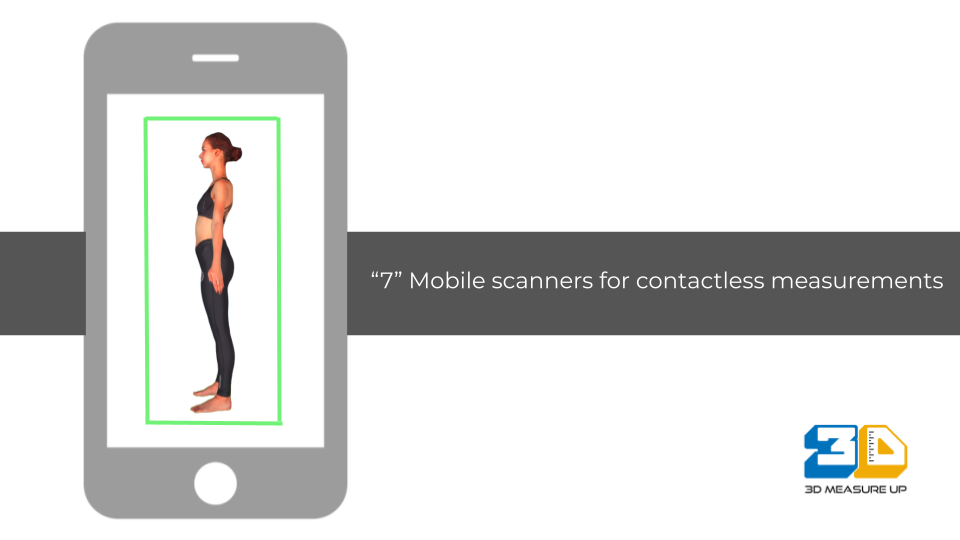 Inbuilt and Mounted Mobile scanners
Apple's LIDAR scanner enables capabilities never before possible on any mobile device. 
The LiDAR Scanner measures the distance to surrounding objects up to 5 meters away, works both indoors and outdoors, and operates at the photon level at nano-second speeds. New depth frameworks in iPadOS combine depth points measured by the LiDAR Scanner, data from both cameras and motion sensors, and is enhanced by computer vision algorithms on the A12Z Bionic for a more detailed understanding of a scene. 
Apple's LiDAR Scanner aims to be used to create cutting-edge-depth mapping points when combined with camera and motion sensor data to create a more detailed and accurate three-dimensional (3D) information of the scene and for instant object placement. Its ARKit SDK enables converting this to a 3D mesh.
Amazon too has been investing in body measurements and its latest Halo device can scan the body for contactless measurements.  The capabilities of Halo are highlighted in this article and this blog 
Structure Sensor is one of the most popular scanners, used to generate scans for contactless measurements. Mounted on an iPad it can be used to scan any object. This blog describes how it can be used to create a 3D body scan.
ItSeez3D extends Structure Sensor for an even better experience. 
Mobile Applications 
There are many mobile applications available for creating a 3D scan using the depth sensor in the mobile camera. I have listed a few interesting ones here
Heges

works with iPad and iPhone.

Capture an application from

https://www.standardcyborg.com/product/
Photo to 3D Scan
Facebook's PiFUHD is an open-source library that can convert a 2D photo of a person to a 3D scan. It is good enough avatar creation. Using it for accurate measurement required by the garment and medical applications needs to be tested.
3D Measure Up body measurement platform can process scans from these sources to extract measurements. The accuracy of the measurement depends on the quality of the scan.
3D Measure Up enables a comfortable fit by focusing on the development of the latest 3D body processing requirements with a set of ISO-compliant standards and also on a proprietary platform that combines 3D modeling, numerical, and machine learning methods to provide highly precise and efficient identification and measurement.
To know more about the 3D Measure Up body measurement platform and its features, please visit https://3dmeasureup.ai/. Click here to signup for a free trial of 3D Measure Up, or contact us at 3dmeasureup@prototechsolutions.com.
If you think integrating such a technology could be a game-changer for you, feel free drop in mail

Author: Pankaj C.
Contact us:
3dmeasureup@prototechsolutions.com
3D Measure Up